Acoustic Movable Walls
The acousic within any building strongly impacts our experience. Noise is a major contributor to stress and affects our ability to concentrate at work. Modern architecture often exacerbates noise due to the popularity of hard materials such as plasterboard, concrete, wood and glass in modern design.
Our acoustic movable wall panels control noise resulting in increased comfort and productivity. The panels soak up reflected sound leaving more space to think and communicate without having to compete with excessive background noise.
Our panels are used in many different environmants, including...
Offices - to increase productivity and reduce distractions
Factories - to improve working conditions and comply with health and safety legislation
Schools - to improve learning standards and speech intelligibility, especially for those with learning difficulties
Community Halls - to bring noise levels under control making group activities more enjoyable
All our panels are fully fire rated to BS476 Class 0 and come in a range of different fabric colours and finishes. For supply and installation of acoustic movable wall panels in your workplace please contact us for a quote.

Hall Partitions panels are hung from a precision extruded heavy duty aluminum top track with ball bearing trolleys. Suspended from the structure by threaded steel rods or brackets. No floor track or guides are required.

Each partition comprises 2 no.adjustable wall mounted jamb posts suitable for opening of unlimited width. Panels are positioned within the jamb posts and locked into position by means of two retractable acoustic seals operated by a single control, securely fastening the panels between the floor and top track with flexible acoustic seals; creating a very good seal and locking the panels firmly in position across the opening. The last panel positioned has an additional telescopic vertical element which finally exerts pressure on all panels, ensuring that the panels are tightly closed together and the acoustic seals are fully compressed for maximum efficiency. The system is also availiable with electric panel operation. Constructed for a long trouble free life, the panels have internal frames incorporating the precision mechanical operating mechanism.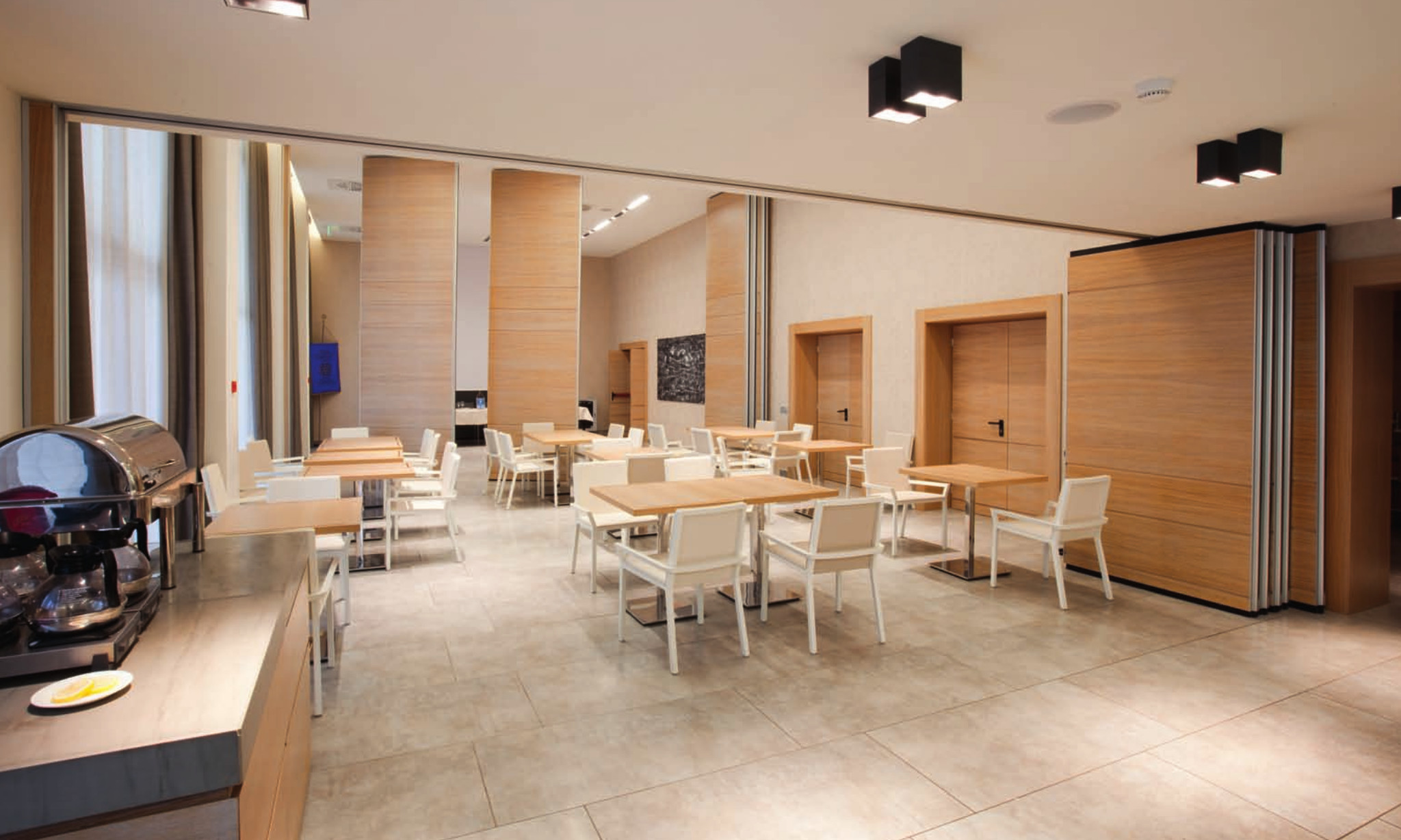 They are faced both sides as standard with high density particle board which can be finished with a wide range of exciting materials to suit the clients' requirements.

Panel edges are fitted with precision interlocking trim sections with vertical acoustic magnetic seals. Cavity filled with acoustic sheet material bonded to the inside of the panel boards depending on the acoustic requirement.Trimless panel edges are also available (non-visible profiles).
For more information on intsallation and servicing of hall partitions, contact us now.